Welcome
Hello and welcome to my webpage - a place dedicated mainly to my graphic efforts and fanart featuring my favourite tv series, movies and literature. Over the time Im also planning to upload my photos, textures and stock-pictures as well. All artwork here (unless stated otherwise) was made by me and belongs to me, so please donīt steal. Thanks for visiting and enjoy your stay! :)


Supporting

september 6, 2012 - Full wallpaper tutorial
Like I promised I finished a tutorial showing you some of the techniques I use while making my wallpapers. You should find all the important info there, however if you'd like me to explain something a little better/make a separate tutorial on some of the techniques, leave me a tag and I'll see what I can do :) I tried to do my best while explaining, plus there is a lot of graphic pointers and visual screencaps to guide you through, so hopefully someone will find the tutorial useful.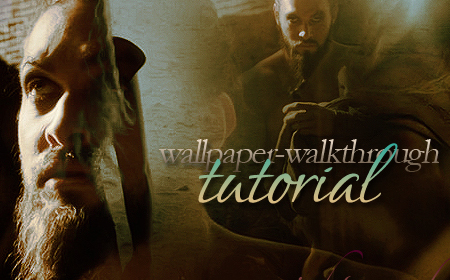 september 5, 2012 - Wallpaper roundup
As promised, here is another graphic update with some more wallpapers I made recently :) Im really getting into Game of Thrones fanarting mood so thereīs a strong possibility the next graphic update is going to be all about Daenerys, so consider yourself warnt :) Iīve also been working on a wallpaper-walkthrough tutorial which I should be posting during the next couple of days and I just wanted to offer you guys if there is anything you would like me to make a tutorial on (be it a technique or a specific wallpaper) just leave me a tag and Iīll be glad to have a look :)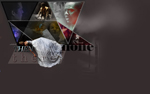 Title
: And then there were none
Dimensions
: 1440x900px
Fandom
: Angel the Series
Note
: A wallpaper made for an Agatha Christie themed challenge over at Buffyforums, hence the name and the art-deco style of the piece. The featured scenes are all the ones that lead up to Fred being consumed by Illyria, which is the main thought behind this wallpaper.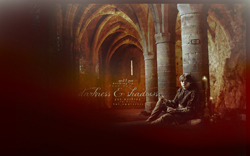 Title
: Darkness and Shadows
Dimensions
: 1440x900px
Fandom
: Game of Thrones
Note:
More or less experimental piece where I followed a tutorial on making part of a wallpaper animated while the rest remains static. I wanted to make the candle fire make as realistic as possible, which to be honest did not work out all that well, but it was still a lot of fun and an interesting new technique to try out :)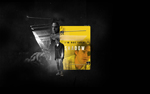 Title
: Not your shadow
Dimensions
: 1440x900px
Fandom
: Buffy the Vampire Slayer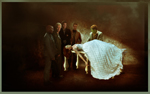 Title
: Signal fire
Dimensions
: 1440x900px
Fandom
: Angel the series
Note:
This is a manipulation made for the Art it like Rembrandt challenge, which is the reason why there are no words and why it looks a little bit... old-timey with warm colours scheme, contrast between light and dark and (hopefully) a little bit of a painted effect. Basically I was trying to recreate all the techniques Rembrandt is famous for while using Photoshop and Whedonverse characters. Not your typical fanart work but Im quite happy with the result :)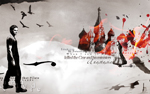 Title
: Sympathy for the devil
Dimensions
: 1440x900px
Fandom
: others/lyrics based piece
Note:
No fandom here, just a wallscroll depicting the scenes described in the song Sympathy for the devil, with the Devil being "played" by Michael C. Hall... for obvious reasons, because Im a very obvious gal :)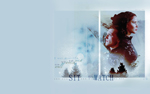 Title
: The Heartland
Dimensions
: 1440x900px
Fandom
: The Hunger Games
Note
: Wallpaper which the current layout is based on, showing Katniss and Peeta with the text being stolen from Glen Hansardīs eponymous song.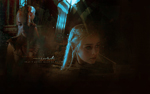 Title
: Down and Dark
Dimensions
: 1440x900px
Fandom
: Game of Thrones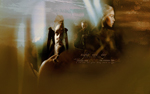 Title
: Night and Day
Dimensions
: 1440x900px
Fandom
: Game of thrones
september 2, 2012 - Wallpaper roundup
It seems that I have a lot of wallpapers that I failed to upload so Im probably gonna have to make two separate posts so that you are not overwhelmed by the sheer amount :) Here comes the first batch!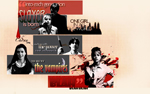 Title
: One girl
Dimensions
: 1440x900px
Fandom
: Buffy the Vampire Slayer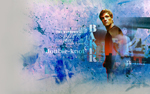 Title
: A baker
Dimensions
: 1440x900px
Fandom
: The Hunger Games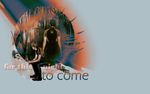 Title
: For this night
Dimensions
: 1440x900px
Fandom
: The Hunger Games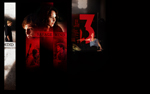 Title
: Our savage mind
Dimensions
: 1440x900px
Fandom
: The Hunger Games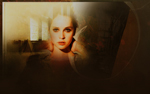 Title
: The girl back home
Dimensions
: 1440x900px
Fandom
: The Hunger Games
Note: Wallpaper picturing what I imagine Finnickīs Annie Cresta would look like. This is a piece made for the Art it like Rembrandt challenge, so the technical side is made to fit that specific style.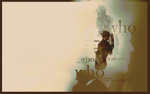 Title
: Who by fire
Dimensions
: 1440x900px
Fandom
: Others/ lyrics piece
Note: Piece based on Leonard Cohenīs song Who by fire.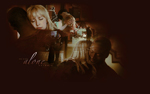 Title
: Not alone
Dimensions
: 1440x900px
Fandom
: Leverage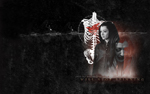 Title
: Stop spinning
Dimensions
: 1440x900px
Fandom
: Buffy the Vampire Slayer
september 2, 2012 - New awards
Over the last few months I still had time to enter a contest here and there, and here are the beautiful awards I won, along with huge thanks to those who made them for me <3
-
Delicate Awards
: This is a project run by the wonderfull
SunnyWill
,
Michelle
and
Leca
, who created it as a local, czecho-slovakian version of the more famous AFA awards.
I am proud to have received the total amount of:
3x 1st place
,
3x 2nd place
,
3x 3rd place
,
6x 4th place
,
6th place
and
9th place
, as well as an award for
Artist of the Year
and award for
The most favourite wallpaper
of the awards. I am incredibly honoured and grateful for all of the awards, your support and the hard work that went into creating these. You can check all of them in my
AWARDS
section!
-
BuffyForums challenges
:
3x
1st place
(
Art it like Rembrandt
,
Back to school
and
The storyteller
challenges)
1x
2nd place
(
The unconventional
challenge)
1 x
3rd place
(
A splash of colour
challenge)
4x
4th place
(
Black jeans, white shirt
challenge,
A splash of colour
challenge,
A splash of colour
challenge,
Art it like Rembrandt
challenge)
1x
5th place
(
A rush of blood to the head
challenge)
1x
8th place
(
Negativity breeds contempt
challenge)
-
Delicate challenge
: A
Challenge Master
award.
september 2, 2012 - New layout and new hosting
As you may have noticed, Mindless wisdom has recently experienced some troubles in the form of... well, not being online, for one thing :) I have lost my old hosting and the site with it, however the wonderful Dee from
Lucid fanart
has offered to host me and my website, so after months of being offline I am finally back :) The occassion itself called for a new layout and seeing as I am still very much Hunger Games obsessed, the layout is featuring Peeta and Katniss :)
If you are curious about the past layouts and how the website used to look, you can take a peak
here
.
january 25, 2012 - Art update
Wow, long time no see. I got a bit preoccupied will all the real life things again, but lately I got my muse back, so before we get a new layout in here I have a couple of new wallpaper additions :) A lot of them are from the Hunger Games fandom, which has become a new obssesion to me and therefore you can consider yourself to be strongly urged to read the books and be blown away just like I was! :)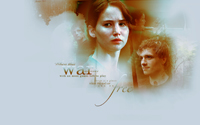 Title
: Mockingjay
Dimensions
: 1440x900px
Fandom
: The Hunger Games
Note: A couple piece focusing on Katniss and Peeta and on the more... serene and romantic part of their relationship with just a little hint of their future together :)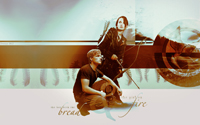 Title
: Hunger Games
Dimensions
: 1440x900px
Fandom
: The Hunger Games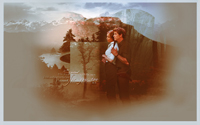 Title
: Donīt forget me
Dimensions
: 1440x900px
Fandom
: The Hunger Games, fictional scene
Note: This is a fictional scene, kind of a "what if" depicting Katniss and Gale as they said their goodbyes to each other (which was not described in the book) because she chose to live her live with Peeta. Yet I loved the strong bond between Katniss and Gale, his love for her and even though she couldnīt really love him back the way she does Peeta, her feelings for him were real and it was such a shame the two of them didnt get a chance to say their goodbyes and explain their feelings.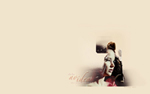 Title
: No idea
Dimensions
: 1440x900px
Fandom
: The Hunger Games
Note: A piece focusing on Katniss (for a challenge themed "negative space", a technique that I
love
to use). I wanted to concentrate on Katniss and how she is almost constantly bemused by the idea that she is the face of the revolution and that the people of Panem have chosen her to be their "mockingjay". She believes that is not a very heartwarming person, which in a way is true, but she is a very spontaneous and pure soul with enormous sense of justice and courage, which is why the people love her, only Katniss just canīt see that about herself.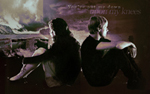 Title
: Clocks
Dimensions
: 8528x652px
Fandom
: The Hunger Games, wallscrol
Note: I believe this is my 2nd ever wallcrol and boy was it a pain to make it :D But it stuck with me and at the end Im quite happy with the result. This piece was made for Breīs challenge and was made to fit into Coldplay lyrics (
Clocks
). I loved how the lyrics basically described everything that was waiting for Peeta and Katniss in the arena, the dangers, the confusion and how they also nicely fit for the relationship between the two of them - not knowing if they can really trust each other and not understanding their feelings towards each other.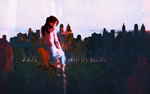 Title
: Dark blue
Dimensions
: 1440x900px
Fandom
: Buffy the Vampire slayer
Note: Another challenge entry, this time made based on Jackīs Mannequin
Dark blue
lyrics. A simple character piece for Willow and the way her world turned afer Taraīs death. I was trying to show her loss, the feeling that the world doesnīt hold anything for her any more and also a little bit of the revenge brewing, with the lines
"the world could be burning till thereīs nothing but dark blue"
.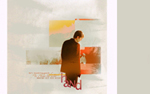 Title
: Red right hand
Dimensions
: 1440x900px
Fandom
: Angel
Note: A character piece featuring Wesley, again made specifically for the
Red right hand
lyrics. The song itself is about the devil and its ways of seducing the will of man, and I loved the implications for Wesley, the man in a dark cloak and the red right hand (symbolising some terrible crime). Wesley himself fits the character perfectly, because over the course of the show his character grew progressively darker and darker and for various reasons he did have blood on his hands, sometimes unknowingly (kidnapping Connor) and sometimes his actions were very calculated (drugging Faith). He is a very... complicated character, but also someone who has been tormented by his actions.
Title
: The long way down
Dimensions
: 1440x900px
Fandom
: Leverage
Note: An episodic piece (for 4.01 The long way down :D) depicting a scene that I love very much - conversation between Parker and Eliot, showing how much both of them have grown within the past few years.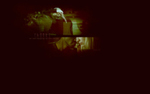 Title
: Thanks
Dimensions
: 1440x900px
Fandom
: Leverage
Note: Another episodic wallpaper for Leverage, this time a focusing on the Parker/Hardison relationshipn in this episode and how Parker really came through for him and didnt give up when he needed her the most.
(Can we all say aaaaawww? :)
Well that was a bit longer than I expected at the end :D Im working on a new layout, so hopefully soon there will be some change around here and I will be back with some more art.
I would also love to thank you all for the tags and kind words and comments and most of all - for the amazing xmas wishes you gave me and the gifts you sent me, I canīt tell you how much I appreciate it. I will have them up in my gallery in the next update, I promise!:)
octob 31, 2011 - Happy Halloween!
Happy Halloween everybody! Where Im from we donīt celebrate Halloween at all, but I figured what the hell :) And as a little Halloween present Im bringing a couple of new wallpapers: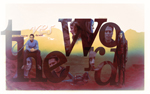 Title
: The Word
Dimensions
: 1440x900px
Fandom
: Angel
Note: A wallpaper focusing on the complicated relationship of Wesley and Illyria. I tried playing along the lines of Wesleyīs command "never to turn into Fred again", which meant him refusing to ever see the woman he loved, even though (or because) it would be a lie. And all the time he only had to ask Illyria, "say the word", for her to show him his beloved one more time.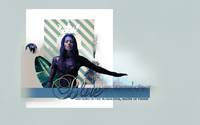 Title
: Blue
Dimensions
: 1440x900px
Fandom
: Angel
Note: A wallpaper made for challenge based on words. I got random word, in this case "blue" and had to build a piece around it. This is a simple character piece, depicting Illyria in her superior character. I used a lot of symbolic stocks for her - the plants, as she could talk to them, the crown since she called herself "the king" and various nature-symbolising stocks simply to show the earth that she knew during her time.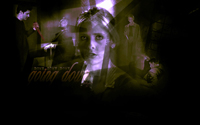 Title
: Going Down
Dimensions
: 1440x900px
Fandom
: Buffy/Angel, fictional story line
Note: A piece depicting a fictional story arc. In this Angelus, kidnapping Giles, managed to kill him during his interrogation about Acathla, leaving Buffy utterly shocked, devastated and lost without her watcher. She is driven by her rage and sorrow and hunts down Angelus, who eventually realises that sheīs not gonna stop and begs her to spare his life... which she might or might not do, I left the ending open :)
And as a present for me, this site has received two (letīs say it with me guys, two! :) ) Site of the Month awards for October! I couldnīt believe it, especially coming from so talented and wonderful people. I trully am honoured to be able to share these beautiful awards with you and to be a part of this wonderful community.


As you might have noticed, I have rebuilt my art section and stock section as well (planning to add more stocks soon) - the work is not all done yet, but Im working on it :) Iīll be back soon with some more additions, until then take care and
CLICKY CLICK
for a Halloween gift!
octob 14, 2011 - And the stars are falling, all for us
Hey guys! Im sad to say that at the moment I am sick as a dog, so not feeling very creative and artistic. The ideas are there, but I simply donīt have much strength left to actually even simply open Photoshop, so this is not a huge update, but I do have some new pieces nonetheless. I have also won some
new awards
over at
Buffyforums
, so I am very proud to share these with you:
-
1x 1st place
(my first golden award won in some time now, this one is from
Buffyforums
in the challenge
Letters of the alphabet
)
-
3x participation awards
(from the following challenges:
Manipulate this
,
To be continued
and
Letters of the alphabet
)
Now for the graphic update - I have 4 new wallpapers - you can find them all in the
R E C E N T
section: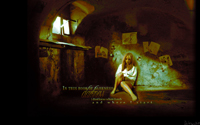 This is a piece portraying a
fictional
story arc. The idea being that when Buffy speaks about going crazy in the episode Normal Again and she mentions having been to a mental institute for some time, in this piece she has never left the place - she couldnīt stop talking about seeing her first vampirers and about her reality as a slayer. She stayed in the institure for years and years to come, her doctors eventually decided that her psychosis was too deeply embedded into her personality for Buffy to be "cured". She was moved into an asylum where they had rooms for these... troublesome patients, rooms where they could be put in and left to their dark dreams and realities. Buffy is trapped in her reality of being a Slayer, not able to escape her visions and she canī t really tell whatīs real and whatīs not anymore.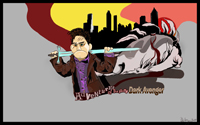 Another piece picturing a fictional story arc, this time playing with the idea of puppet-Angel never being transformed back into his human form. So he continues in his quest as a puppet, his weapons being his fluffy fangs, sword and unbearable cuteness. *cough* He fights his way all the way to the final battle, where he stands true to his final line ("Well, personally, I kinda want to slay the dragon.") and after slaying the dragon he goes on and keeps fighting the good fight, with even a broader range of enemies than ever before!
This is also my first stab at drawing - I got a tablet from my boyfriend and with the help of
Signeīs amazing tutorial
it came out like this and even though itīs not perfect, Im really loving it!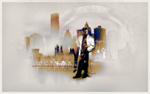 This time I made a wallpaper for a challenge about the 80s, so that is the fashion and the setting of the wallpaper. The idea here being the fact, that Angel has actually lived through the 80s and since there was a lot of famous detective tv shows at that time, I decided to portray Angel as a sort of a P.I., a specialist dealing with the lonely cityīs supernatural problems and crimes :)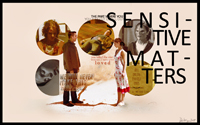 And yet another piece depicting a fictional story arc (all three of them were made for a challenge over at BF, called "The unconventional". How fitting, right?). This story is set into the time of BtVS episode Sefless, where Anya kills a dorm full of students and Buffy quickly decides that it is her job to "put Anya down", so to speak. So, this is what happens in my alternative reality, a story that I tried to picture with my wallpaper:
Buffy and Anya, without practically even noticing Xander trying to stop them, start fighting each other, and... during the fight, Buffy actually kills Anya.
What Buffy did, leaves Xander... horrified. Shocked. It takes him days just to grasp the basic notion of the fact, that his ex-fiancé and woman who he loved anyway, is gone forever. He excludes himself from the group, doesnīt talk to Buffy and is refusing to talk even to Willow. He himself puts Anya to ground, and during the ceremony Buffy shows up, trying to make him understand.
Nevertheless, this... event is something that will change the group dynamics for a long time, if not forever. Xander canīt just forget Anya, but canīt bring himself to truly hate Buffy, which leaves him hurting even more. They both want to make things... right, but they both know they cant - when Buffy tries and speaks to him, they canīt even look at each other. The impending Apocalypse eventually brings Xander back to the group, but Buffyīs role as the sole law is something, that they both have to work through in order to make things right between them right again.
Next up are the new affiliates - MINDLESS WISDOM has made some lovely new friends and they are all great people, amazing artists and really worth your while, so go check them out!




I am also still planning on re-doing my gallery (adding the titles and comments to pieces that need some explanation) and also uploading some new stock packages, so stay tuned guys! Unfortunately this work is going kind of slow for me and just when I decided to finally finish it up, I got ill, so hopefully itīll all be up really soon :)
And as always - thank you so much for reading this, coming back to this site and for all of your lovely comments, I love you guys!
Refresh | Back | Forward

Disclaimer

This website is not connected to any celebrity, television show or movie that's featured in the site. All artwork here were made by me, Destiny. Donīt steal, direct link or whatever, please.